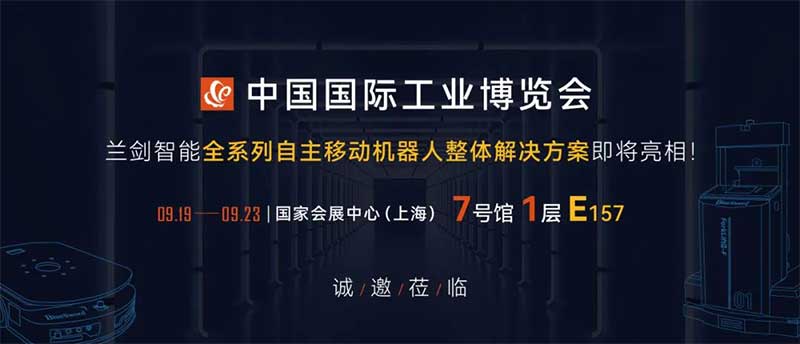 In response to the demand of the new energy power battery industry, BlueSword has independently developed multiple AGV models specifically designed for this industry, and has successfully applied them to the production line, raw materials, and finished material handling of a lithium battery head enterprise.
Product Introduction
In the pre production process of the lithium battery production line, BlueSword has created a dual station coil lifting robot AGV, with a maximum load of 3500kg, which can achieve the transportation and docking function of polar coil materials between internal process machines on the production line.
The innovative dual workstation design of BlueSword can achieve the dual handling task of empty and full exchange with AGV in one direction and single docking, without the need for AGV to exit the channel and spin for secondary docking, truly achieving efficient operation of one docking and greatly improving the handling efficiency.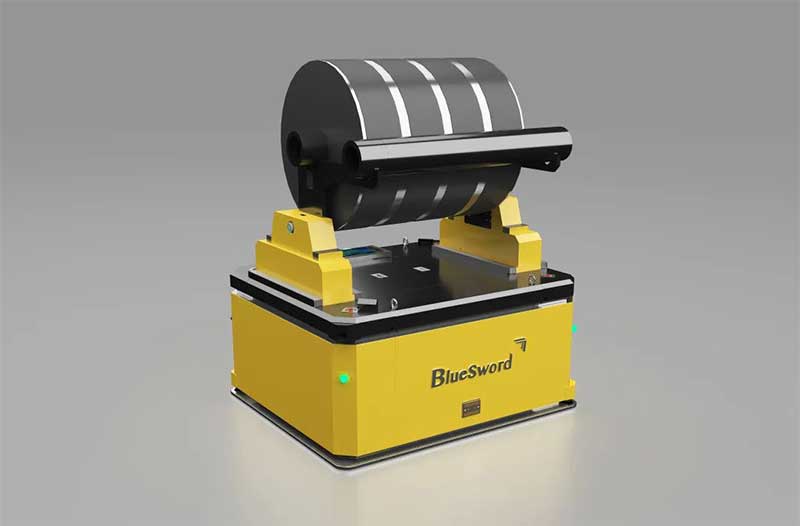 BlueSword Dual Station Coil Lifting Robot
In the middle and later stages of the lithium battery production line, BlueSword adopts a large-scale pallet lifting robot and roller conveyor AGV, which can efficiently and flexibly complete production and transportation operations.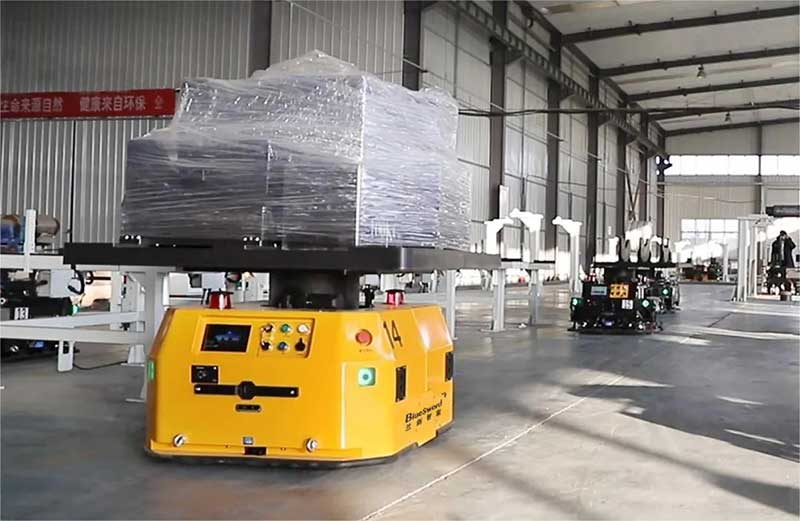 BlueSword Tray Lifting Robot (Test Environment)
In the process of lithium battery raw materials and finished product storage, BlueSword has created the second-generation electric stacking forklift AGV, which realizes the transportation function of raw materials and finished product pallets entering and leaving the warehouse. The AGV body of this forklift is compact and flexible, and can achieve a minimum of 2150mm right angle stacking for picking and placing goods within the channel when carrying standard pallets of 1 * 1.2 meters.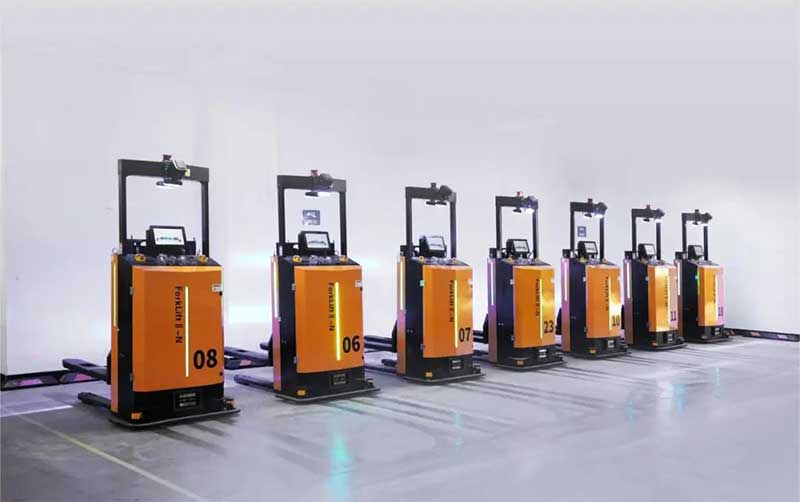 BlueSword Second Generation Electric Stacking Forklift AGV
Product advantages
The BlueSword New Energy Industry's dedicated AGV series products adopt various independently developed AGV navigation and scheduling technologies, achieving stable operation of large-scale clusters.
Accurate navigation
Adopting an advanced composite navigation method mainly based on laser SLAM navigation, there is no need to modify the environment too much. The mapping implementation cycle is short, and the map is updated online in real-time, which can cope with dynamic environmental changes. The positioning accuracy can reach up to ± 5mm and ± 1 °.
Efficient and safe
The AGV body control algorithm based on Bessel curve significantly improves operational efficiency. The highest safety level supports PLD level, T Å V certification, equipped with comprehensive safety protection measures, effectively ensuring personnel safety and material transportation safety while ensuring efficient and stable operation of equipment.
intellisense
The 3D visual inspection system can accurately detect and recognize the 3D spatial position of the pallet, and adjust the posture of the vehicle and fork in a timely manner through the software system. Simultaneously combining multiple sensor detection devices to achieve intelligent perception detection of cargo deviation, high level shaking detection of cargo fork gantry, anti drag pallet detection, and cargo fork collision prevention.
High return on investment and high delivery efficiency
In addition to the high return rate of single machine products (static investment payback period<2 years), at the delivery end of product and system implementation, based on the self-developed digital twin simulation platform, BlueSword achieves real simulation deployment testing before entry; After entry, the laser composite navigation algorithm based on multi-sensor fusion minimizes changes to the on-site environment and enables rapid deployment and launch in various complex application scenarios.
AGV scheduling system
In addition, BlueSword's self-developed AGV scheduling system also innovatively realizes analysis and prediction tasks based on production big data, which can respond to tasks in advance and reduce efficiency losses caused by vehicle idling, achieving accurate and fast material handling, and improving quality, efficiency, and cost for user enterprises.
BlueSword Autonomous Mobile Robot
Move Anything To Anywhere