As the world's largest 3C production and manufacturing base, China has a complete 3C industry chain. With the continuous changes in the industry environment and consumption concepts, the speed of updating 3C products is accelerating, and the demand for personalized consumption is becoming increasingly prominent; However, the number of SKUs for 3C manufacturing logistics operations is numerous, and the efficiency of manual operations cannot meet the needs of the production line in a timely manner, and it faces problems such as rising labor costs. The transformation of 3C manufacturing industry from traditional to digital and intelligent has become an inevitable choice.

Therefore, the rational use of advanced intelligent logistics technology and effective logistics innovation solutions has become an effective breakthrough for the 3C manufacturing industry to accelerate and increase efficiency. The overall solution of logistics robots has been widely applied in the transformation of 3C intelligent manufacturing due to its special advantages such as intelligence, efficiency, flexibility, and strong adaptability.
Industry difficulties and pain points
There are multiple packaging specifications for materials, and the quality of the packaging materials is uneven. The materials are prone to damage, leading to storage failure;
There are many types of goods codes that require manual scanning for classification, resulting in low operational efficiency;
Special materials such as those with electronic properties need to be changed for storage, and logistics robots need to meet ESD electrostatic protection requirements;
Conventional materials need to be stored in original boxes, etc.
Under the requirements of such precision and particularity in 3C production and manufacturing, machine vision technology and flexible intelligent technology of logistics robots are particularly important.
Flexible and intelligent BlueSword logistics robot
Based on thirty years of technological accumulation, BlueSword Intelligent has developed high-precision pattern recognition algorithms, intelligent pattern recognition devices, intelligent algorithms for pallet position and shape detection, high-order S-curve control algorithms, claw control algorithms based on micro servo, robot mixed size palletizing algorithms, etc., which have been mature and applied to core logistics robots such as warehousing robots, shuttle robots, and palletizing robots, Make logistics robots more intelligent and flexible, thereby providing a safe and efficient overall solution for warehousing and production line logistics for [3C Intelligent Manufacturing].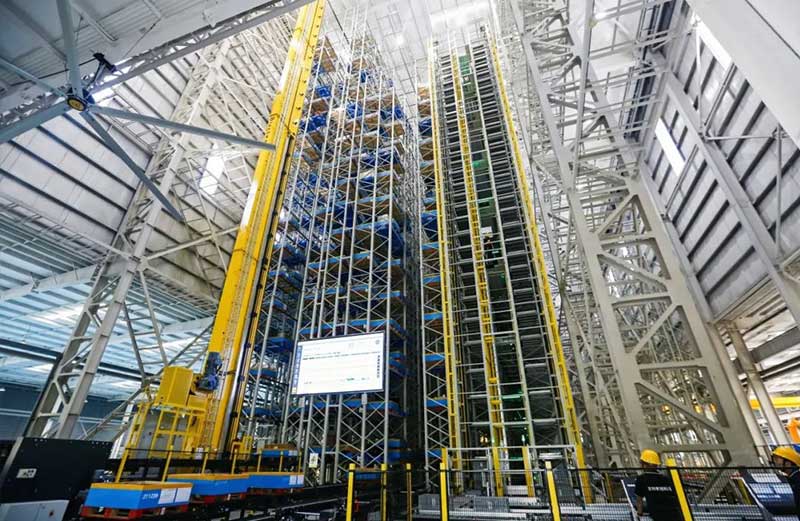 Typical project cases
BlueSword Intelligent has successfully provided various effective customized intelligent logistics solutions for multiple upstream and downstream enterprises in the 3C industry, and the intelligent warehousing system project of Yilian Network Intelligent Industrial Park is one of them.
As a leading global provider of communication and collaboration solutions, Yilian Network has created an intelligent manufacturing comprehensive park that integrates research and development, production, warehousing, and living functions - Yilian Network Intelligent Industrial Park.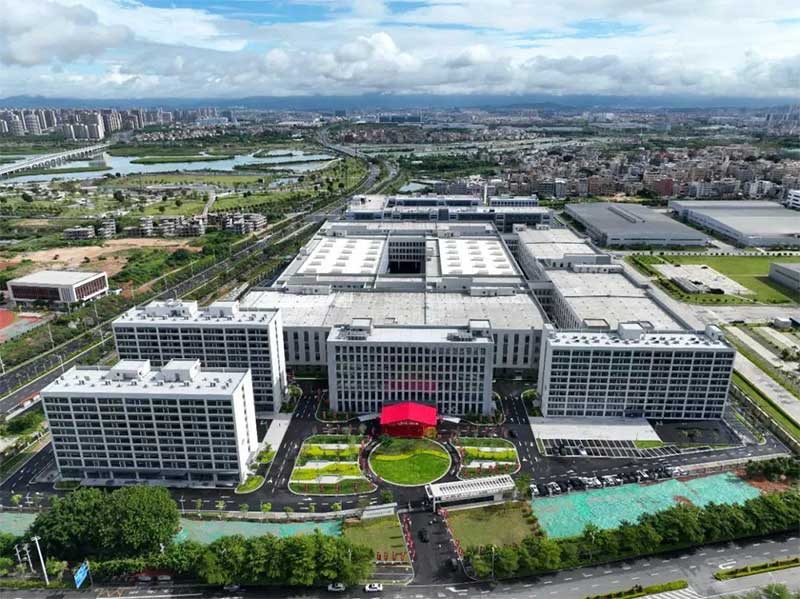 The Yilian Network Warehousing and Logistics Center is located in this intelligent industrial park with a building area of approximately 220000 square meters. It integrates raw material and finished product warehouses and adopts a fully intelligent vertical warehouse storage method. The total storage area is about 40000 square meters, which can meet the storage needs of billions of yuan.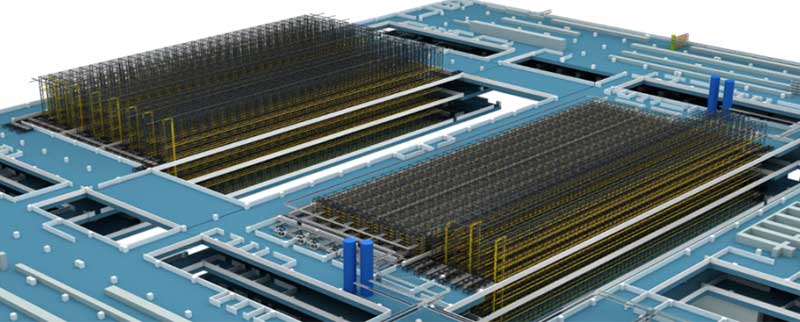 Among them, the raw material automated pallet silo contains nearly 5000 storage spaces in 4 lanes, the raw material automated material box silo contains over 120000 storage spaces in 6 lanes, and the finished product automated pallet silo contains over 10000 storage spaces in 8 lanes. The logistics center as a whole can meet the efficient inbound and outbound demand of tens of thousands of SKUs, and the warehousing efficiency has increased by four times compared to the previous form of warehouse closing and stacking.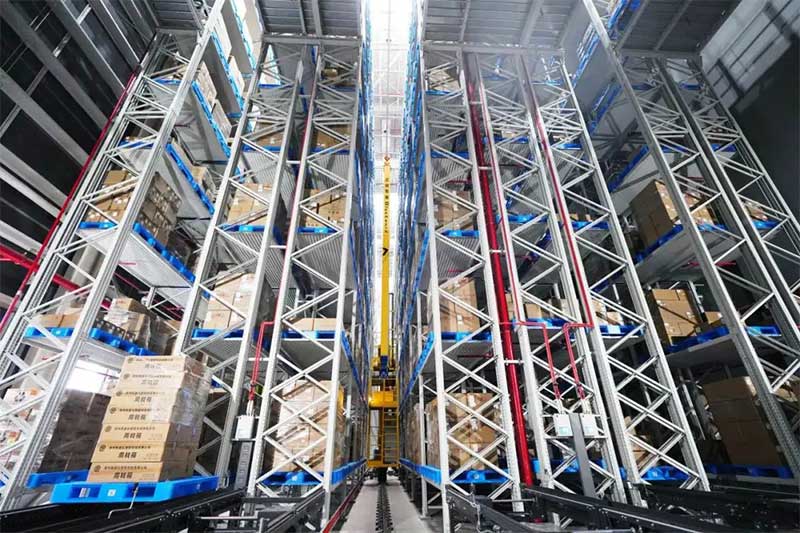 The Yilian Network Warehousing and Logistics Center adopts an innovative form of combining multiple vertical warehouses with tray vertical warehouses, fully utilizing storage space, and integrating cutting-edge technologies such as intelligent warehousing robot systems, shuttle robot systems, destacking robot systems, and digital twin 3D monitoring systems. Through automated transportation systems, raw materials are quickly delivered to dozens of connection points in various production workshops, floors, and lines, achieving full SKU direct supply of parts to the production line.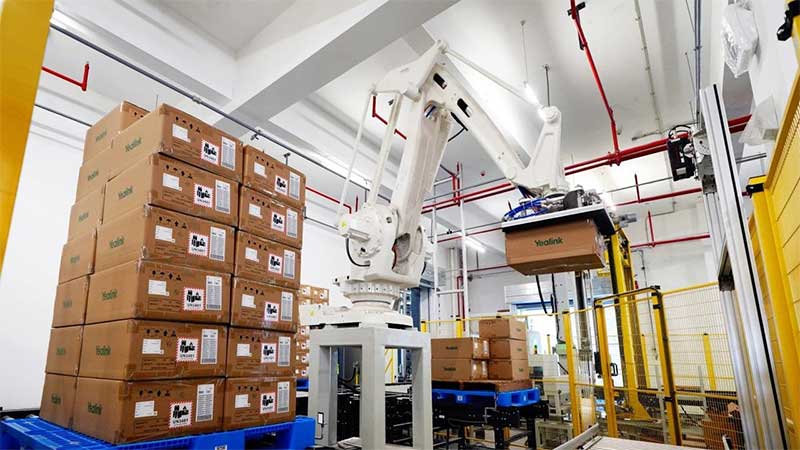 Moreover, the entire system has been designed with sufficient cache, adopts a pull strategy, and automatically delivers materials as needed. After production is completed, the finished products are directly stored in the warehouse, achieving the integration of storage and separation, and meeting the needs of first in, first out. There is no need to set up any material storage areas in the production plant, which saves land area, greatly improves production efficiency, and fully meets the user's accurate and efficient service needs for orders.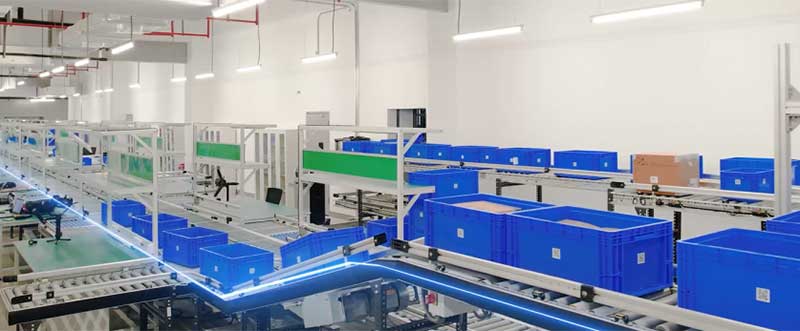 The investment and use of Yilian Network Intelligent Industrial Park will contribute to the rapid development of smart office in the digital era, making communication simpler and more efficient!
And the entire series of logistics robots, intelligent warehouses, and intelligent manufacturing solutions from BlueSword Intelligence will also promote the digital and intelligent transformation and upgrading of the 3C industry and the entire manufacturing industry, making intelligent manufacturing more intelligent!